The most prominent and prestigious among Kerala's boat races is the Nehru Trophy Snake Boat Race held in memory of former prime minister Jawaharlal Nehru on Punnamada lake near Alleppey.
All kinds of colourful boats participate and up to 70 boats take part in this lively and exciting event. Monsoon is certainly the best time to visit Kerala for many reasons. The green environment and constant downpours make the state very attractive during this season. Besides, the season of boat races also begin during the onset of monsoon in the state. Out of the different boat races, the Nehru Trophy boat race is the most prestigious one. Named after the former Prime Minister, Jawaharlal Nehru, this water extravaganza held on the Punnamada backwaters in Alleppey / Alappuzha. Nearly 70 charmingly decorated colorful boats fiercely participate for the vibrant boat race contest.
Nehru Trophy Boat Race 2017
Kerala is famous for boat festivals which has so many followers throughout the world. Even if there are so many boat races in the state, Nehru Trophy boat race holds a special place. A lot of people gather to watch the rhythmic oars of the charming snake boats that slice the flow of the scintillating backwaters in Alappuzha. This special event celebrates on the second Saturday of August every year and this year it falls on August 12th from 2.30 pm onwards at the Punnamada Lake in Alappuzha. Plan a trip to this venue on this day to experience a rare event.
A Great Competition To Improve Communal Harmony
Nehru Trophy Boat Race 2017 is truly a special event for many reasons. About 70 boats are participating in the contest in different categories. All these boats maintain in a traditional style in order to give the best performance. Among them, nearly 16 snake boats are known as "Kings of Water" because it has approximately 100 rowers. Each of them has four men sit on both sides of the boat to guide other oarsmen. All the rowers pad in unity from the starting point to reach the finishing point which is about 1.35 kilometers away. A lot of people including foreigners reach the spot to watch the competition between the snake boats. The winner will be awarded with a trophy. However, main attraction shall be the competitive spirit between the participating clubs which is certainly commendable. This event is an outstanding way to enhance communal harmony.
Vibrant Event
Nehru Trophy Boat race is truly a spectacular event. Watching snake boats that maintain in a traditional way shall be a unique experience. These snake boats locally known as "Chundan Vallam". Vanchipattu, the lively and rhythmic boat songs also special and make the event more alluring.  This boat festival conducted for the first time in 1952 in order to honor the then Prime Minister, Jawaharlal Nehru who visited Alappuzha.  Thrilled and excited after watching the boat race, he donated a silver trophy which was a model of a snake boat placed on a timber abacus. Later, this trophy is known as Nehru Trophy. Boat race lovers and different boat clubs spend lakhs of rupees each year to contest in the race and win the trophy. Winning this trophy is a matter of prestige and pride for each team.
So, why not plan a trip to Punnamada Lake in Alappuzha on August 12, 2017 to enjoy a spectacular boat race?  No doubt, the thrill and cheers of Nehru Trophy Boat race will stay in your memories for a long time.
Date:  August 12, 2017
Time: 2.30 onwards
Venue: Punnamada Lake in Alappuzha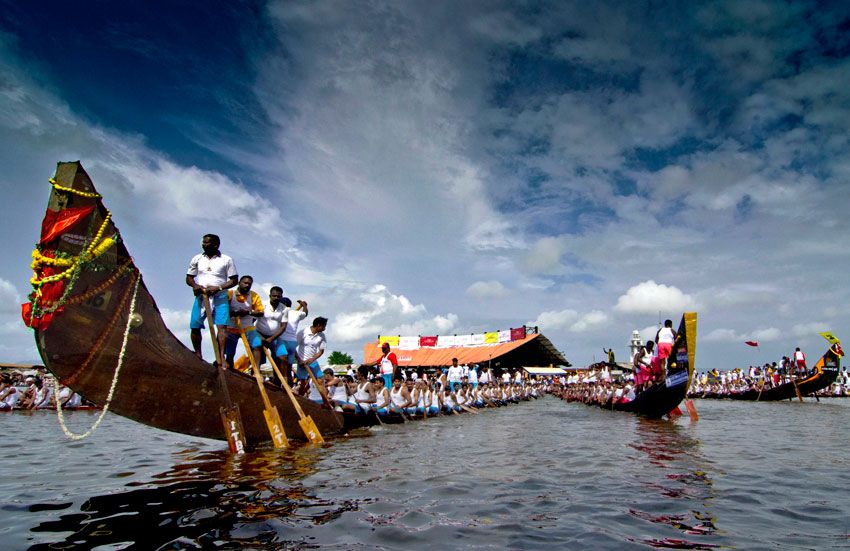 The onset of the monsoon means the season of boat races in Kerala but none is more important or prestigious than the Nehru Trophy Boat Race. Named after the former PM, the race is held in Alleppey on the Punnamada backwaters and is fiercely contested by at least 70 colourful and richly decorated boats and attended by scores of people.       
Kerala is a beautiful Indian state renowned for its colorful boat races. This stunning state comes alive during monsoon season with exciting boat races. In fact, a lot of travelers from across the globe visit this tourist destination each year to enjoy its panoramic nature, indulge in different activities and watch its colorful festivals. These boat races and colorful festivals show the rich culture and tradition of Kerala. Nehru Trophy boat race is the most popular boat race in the state.
Vibrant And Battling Boat Races
Just like its scenic nature, Kerala is also famous for its battling and vibrant boat races.  Several areas in the state are famous for many colorful events. Kuttanad and Upper Kuttanad regions are highly popular for such water activities. The natives in these areas enjoy boat races because the main occupations of them are fishing and agriculture. They conduct boat races annually as a platform to show their muscle power and physique.
Nehru Trophy Boat Race
If you love to enjoy marvelous boat races, plan a trip to Kerala during monsoon season. You can enjoy 4 main boat races including Nehru Trophy Boat Race during this season in and around Alleppey district in Kerala. Besides, the state offers 15 minor races also for the natives and tourists. Nehru Trophy Boat Race is the main boat race in the state. It occurs every year on the second Saturday of August at the Punnamada Lake in Alappuzha.
Spectacular Boat Race
As a main boat race in the state, a lot of people gather to enjoy this Nehru Trophy Boat Race. In fact, it is truly a spectacular race because of the eye catching snake boats. Local people call these snake boats as Chundanvallams.  The rhythmic and lively boat songs known as Vanchipattu also make the event more attractive.
Nehru Trophy Boat Race is the biggest and most colorful boat race in the state.  This year it falls on 13th August 2016.  You can enjoy the commendable performance by the boats and their oarsmen if you attend the event. The snake boats that participate for the race maintain in a traditional way to give the best performance. Nehru Trophy Boat Race is also an effective way to improve communal harmony.
The first Nehru Trophy Boat race was conducted in 1952 as an honor when Pandit Jawaharlal Nehru visited Alappuzha. He donated a silver trophy because he was excited and thrilled by the boat race. It was a model of a snake boat which placed on a timber abacus. All the boat race lovers and boat clubs in the area spend lakhs of rupees every year to win the trophy popularly known as Nehru trophy.
Winning this trophy can be important for each team because it is a matter of pride and prestige. Plan a trip to Alappuzha on second Saturday of August to experience Nehru Trophy Boat Race, the most interesting boat race of your life.

Saturday, 07 February 2015
Onam, the national festival of Kerala marks its beginning with Athachamayam celebration in Tripunithura. It starts from the first of Chingam and ends in ten days. Chingam, the month of celebrations in Kerala is also the beginning of Malayalam calendar year. The festival starts with Athachamayam falls during the English month between August and September.
Origin of Athachamayam Festival
The History of Athachamayam festival dates back to the regime of the Raja of Cochin in memory of his glorious victory. He started to celebrate with a procession from Tripunithura to Thrikkakara Vamanaswamy Temple on Athachamayam day. In every year, the people of Tripunithura celebrate the festival to memorise the victory even though the Kingship had ended.
Main Tourist attractions
The Athachamayam festival is marked by its magnificient procession that includes diverse cultural art forms of Kerala like Theyyam, Kathakali, Bharathanaatyam, Kaavadi, Mohiniyaattam . The parade is vivid with traditional displays like Pamba Melam, Pulikali, Karakaattam, with band sets and ornamented elephants.
Major Tourist Attractions
Tripunithura, a small town situated near to the city of Cochin, is famous for tourist attractions.
The Poornathrayeesa Temple, devoted to Lord Santhanagopala – an avatar of Sri Krishna is one the main attractions in the region.
Kali Kotta Palace : situated close to the temple it was served as an auditorium to the Kings of Cochin for their amusement.
The Hill Palace Museum: The museum situates in Tripunithura – Chottanikkara road,  is famous for its archaeological significance.  It displays the ancient properties like coins, murals and monuments of the Royal family of Kochi.
Route to Thripunithura
Unlike other tourist centres one can reach Tripunithura without much effort.
By Road
Thripunithura situates 12 K.M. away from Cochin in south – east direction.  Apart from this Tripunithura is closely connected with many other main towns in Kerala .
By Train
Tourist can access by train as the Ernakulam – Trivandrum railway is passing through Thripunithura. Thripunithura railway station is operating under the Southern railway. Malabar Express(Trivandrum – Mangalore), Mumbai – Kanyakumari Express, Thiruvananthapuram-shoranur (Venda Express), Thiruvananthapuram-Bilaspur Express are passing through Thripunithura railway station
By Air
Nedumbasserry Airport well known as Kochi International Airport situates nearly to Thripunithura.