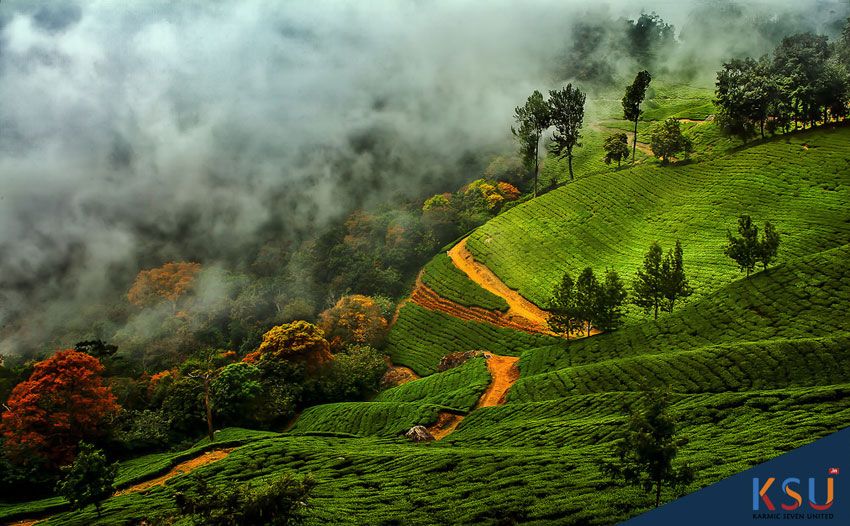 In Malayalam, moon-aar literally means three rivers; Munnar lies at the confluence of the Nallthanni and Kundale streams, which join the Muthirapuzha River, that cascades out of the hills into the Periyar River and later, the Arabian Sea.
Munnar lies at the heart of Kerala's tea-production. Here, over 12,000 hectares of manicured tea fields form an irresistible canvas. The stately eucalyptus plantations, sprawling alongside the fields of tea, fuel the many tea factories in the vicinity, swaying gently in the wind, their fragrance wafting all over Munnar. Shola trees hug the mist-shrouded hillsides, sheltering several endangered species of plants and animals.
Indeed, Munnar offers activities in picturesque surroundings, with wild animals to be spotted, golf to be played, trout fishing to enjoy. For the more adventurous, there is the challenge of climbing the 8841-ft-high Mt Anaimudi, which towers majestically over the town, offering spectacular views.
The offerings of this region are endless, even if lazing around far from the maddening crowd is the need of the hour. There is no better place than Munnar to put one's feet up, and enjoy fortifying cups of tea and idyllic surroundings, with a breath of fresh air.
A haven of peace and tranquillity, Munnar is South India's largest tea-growing region. The place used to be the favoured summer resort of the erstwhile British rulers. This picturesque little hill station still sustains its old-world charm. The best thing about the place is the magnificent low mountain scenery – you get to be above the clouds, watching veils of mist clinging to the mountaintops. And Neelakurinji, a mysterious violet flower, offers a rare sight every 12 years, covering the hills in a scenic blanket of violet, when it blossoms.
Situated at the confluence of three mountain streams – Mudrapuzha, Nallathanni and Kundala, at an altitude of 6000 ft, Munnar offers it all, unending expanse of emerald-green tea and cardamom plantations, pristine valleys and mountains, exotic species of flora and fauna, wild life sanctuaries and forests, and spice scented air all around. Anamudi, Mattupetty Dam, Eravikulam National Park, Chinnakanal & Anayirangal, Dairy Farm, Old Town and the market are some of the important places of attractions of Munnar. Truly, a place you would love to visit, and never wish to leave.
The relaxing hilly atmosphere of Munnar with plenty of sightseeing options attracts tourists from all over India. For those who want to visit the region for a dose of wildlife, the notable Periyar Tiger Reserve near Kumily awaits them. Once you've explored the bordering destinations of eastern Kerala, you should swerve along the edge of Tamil Nadu into the Parambikulam Tiger Reserve and Silent Valley National Park via Palakkad.
All the features of a classic hill station are here: cool weather, verdant valleys and, of course, tea as far as the eye can see. Munnar's resounding popularity amongst honeymoon couples has ensured that the main bazaar is cluttered with guesthouses, hotels and resorts of all budgets. And, for those yearning for tranquility, there are some wonderful remote places to stay, just a few kilometres away from the main town.
Highlights
Kannan Devan Tea Museum
Run by Tata Tea, the Munnar Tea Museum traces the evolution of the tea industry in Munnar from the 1880s. It houses an interesting array of relics, from historical photographs and pieces of period furniture. At the adjacent tea-processing unit, one is introduced to the various stages of tea-production and the intricacies of tea-tasting.
Entry Adults Rs.125; Children Rs.40 Timings 9.00am-7.00pm, Closed Monday Tel 04868-255000 Photography Rs.20
The Kannan Devan Tea Museum transports you through the trajectory of events that made Munnar a treasured tea plantation junction since the late 1800s. The small six-room museum documents history through various artefacts and supplements the exhibits with a half-hour audio-visual show. The trip includes a guided tour of the tea factory behind the museum and free tea tasting.
Eravikulam National Park
The Kanan Devan Hills of Munnar are home to the Eravikulam National Park, aimed at conservation of the endangered Nilgiri tahr (a type of mountain goat). These elusive creatures, native to the Western Ghats, are adept at traversing the steep hillsides of the Nilgiris. Just 16km from Munnar, Eravikulam is 97sq km and comprises large stretches of grassland with sporadic clusters of Shola forests. The Rajmala section (southern zone) of the park is open to visitors, except during the February-April breeding season of the tahrs. Personal vehicles are allowed on this route. A few guided walking trails have also been chalked out in the forest. The highest peak of the Nilgiri hills, Anamudi (2690m), also lies inside the park.
Top Station
Kerala's border with Tamil Nadu affords spectacular views over the Western Ghats. Peer down the plummeting valley from a high windy point at Top Station while the misty blue mountains straddling the border keep you company on all sides. Unfortunately the upkeep of the place is a slight disappointment, though nothing diminishes the beauty of the panoramic view.
En route to Top Station you should stop at Echo Point where you can shout your lungs out (or preferably watch others) at a lakeside.
Floriculture Centre
Munnar Rose Garden, also known as Munnar Floriculture Centre is a must-visit attraction in Munnar. Visitors can enjoy varieties of herbal plants and flowers at this picnic spot.
The meticulously managed Floriculture Centre makes for a short stop on the way to Top Station. A neatly paved, narrow one-way pathway ensures that you see the entire collection of flowers. Needless to say, that this is one of the most photo-friendly places with visitors clicking away against the backdrop of dazzling colours.
Attukal Waterfalls
The Athukad Falls are located deep in a valley, approximately 8km from Munnar. At the height of the monsoons in July and August, these waterfalls become a roaring, untamed cascade. A narrow bridge, which needs to be negotiated carefully, spans the gorge.
Pack some snacks and head 9 km out of Munnar towards Pallivasal to the Attukal Waterfalls cascading across the tea plantations. They are especially spectacular after the rains (Jun-Sep) and make a great setting for a lazy picnic. However, at the height of summer, the waterfall is barely a trickle.
There are two other cascades which acquire remarkable proportions during the monsoons. The Cheeyapara Falls plunge from a height of over 500ft right next to the highway, a popular bathing site for tourists eager to rid themselves of the grime of the plains. Another kilometre down the road, the equally impressive Valara Falls cascade tumultuously into the thickly forested ravine below the road.
Mattupetty Dam
At a spectacular height of 160ft, the Madupatty Dam has a vast reservoir, which picturesquely extends several kilometres into the hills. Boating here is an exhilarating experience, and offers occasional sightings of elephant, gaur and sambar as an added bonus. Five-seater speedboats and 20-seater launches are available for expeditions onto the water.
Entry Adults Rs.20; Children Rs.10; Boating Charges Small Boat Rs.600 (5 people, 15 minutes); Big Boat Rs.1,400 (20 people, 30 minutes) Timings 9.00am-5.00 pm
The tranquil green waters of the Mattupetty Dam meet you as you wend your way to Top Station. They warrant a quick picture or snack stop, with a fantastic view from the bridge that runs across it. The reservoir ( Mattupetty Dam ) is also known to be one of the visiting grounds of elephants in the region.
Marayur Sandal Forest
Marayoor is a beautiful town in Idukki district which almost 50 kilometers from Munnar. This pristine and unexplored tourist spot is famous as a hub of sandalwood trees. People love to visit this rain shadow village because of its pleasant climate and outstanding natural beauty.
If you head north of Munnar towards Chinnar Wildlife Sanctuary, a vast copse of natural sandalwood trees at Marayur meets you 42km from the town. Though you can't enter the forest, you can see the beautifully maintained thicket of trees by the Forest Department from outside.
Several tribal groups inhabits in Marayoor and most of them basically engaged in agriculture. Many travelers love to visit the tribal settlements during their trip to this destination in order to get an idea about their lifestyle.
Muniyara Dolmens
Muniyara is a must-visit spot near Marayoor in Munnar where you can see the dolmens that tell the unique history of Stone Age civilization. It locates almost 52 kilometers away from Munnar in a panoramic village on the Kerala-Tamil Nadu border.
On the Chinnar route, yet another wonder lies off Marayur: the ancient burial grounds or dolmens. Locally known as 'muniyaras', these Neolithic stone formations lie on a vast rocky platform and unfold interesting aspects of prehistoric life. There is no tourism infrastructure here except for a single board leading you to the location.
Muniyaras are the burial chambers date back to Stone Age worth visiting during your Munnar trip.
Chinnar Wildlife Sanctuary
The Chinnar Wildlife Sanctuary is a must-visit destination for travelers to Munnar. Locates in the Idukki district in Kerala, this is an excellent place to enjoy rich wildlife in its natural habitats.
Eighty kilometers from Munnar, the Chinnar Wildlife Sanctuary is relatively unexplored. The vast expanse of semi-deciduous forests is home to an impressive number of wildlife species like the grizzled giant squirrel, the Nilgiri tahr, leopards, gaur, sambar, spotted deer and a variety of birds. The only way to see the forest is on foot, with a guide. This is organised by Tribal Trackers Eco Development Committee (office at the check post). Book for a trek upfront at the Munnar office.
And if you are feeling especially adventurous, you can also stay overnight in one of the three types of accommodation available; Tree House, Log House and Hut. This is truly for the adventurous as there is no electricity at night and no toilets in the tree house. You need to walk anywhere between 3-7km to reach the latter.
Church of South India
Located one kilometre outside town, the Church of South India rises tall and stately above the road. Its fortress-like exterior, shrouded by eucalyptus trees, holds within its walls a repository of Munnar's colonial past. The adjoining cemetery is also well worth a visit.
Timings 10.00 am-5.00 pm Mass 8.00 am
Lockhart Gap
The Lockhart Gap offers a bird's-eye view of Bison Valley (so named for a former preponderance of gaur in the area) and the surrounding hills up to Thekkady. It is also an ideal location for a picnic.
Lockhart Gap (often spelt wrongly as Lock Heart Gap), just 13 km from Munnar, is an ideal place for adventure tourism and trekking. The fresh mountain air, the mist-clad hills and panoramic view make it worthy of a visit. Located at a distance of 13 km from Munnar, this magnificent vantage point lies close to Mattupetty. This place offers some amazing views of the mist-clad blue hills covered with lush greenery, winding roads and silver brooks splashing the emerald greenery with white streaks. The salubrious climate and picturesque surroundings make it one of the most preferred locations to visit in Munnar.
Trout-Fishing
Apart from the Nilgiris, Munnar is the only hill station in South India to offer anglers the delights of trout fishing. The two prime fishing sites, Gravel Banks and Devikulam Lake, are located in pristine surroundings, untrampled by tourists, about 25km from Munnar. Local jeeps are needed to get to these spots, as the terrain is pretty rough. To reach Gravel Banks, one has to pass through the Eravikulam National Park and Tata Tea's Nyamakad Estate; it is tucked away in a remote corner of Nyamakad Estate. Devikulam Lake is 13km from Munnar down SH19. Anglers must get permits from the High Range Angling Association in Munnar, and are expected to bring their own equipment. Live bait is taboo and only artificial flies, spinners and lures are permitted. Details of catches also have to be recorded.
Experiences
Kolukkumalai
Kolukkumalai is a scenic part of Munnar located at the Bodinayakkanur Thaluk in the Theni district of Tamil Nadu attracts tourists with its majestic beauty.
Kolukkumalai, about 38 km from Munnar and accessible only by jeep, the trip itself is an experience to opt for. The hill top offers some excellent views of the plains, far off, bordering Tamil Nadu. The rolling acres of tea presents itself as the best place to take a stroll through, as the mist slips in and out, every once in a while. An advento guided tour in jeeps of the age-old tea factory would definitely be highly recommended. One can get jeep ride from the foothill starting point.
Spice Garden
The Spice Garden offers you more reasons to grow and go greener. Actually a hands-on museum, the exhibits featured here are genuinely different. They range from specimens of exotic flora found in the Western Ghats to a wide variety of tea, cardamom and coffee.
The unique spice garden was founded was founded with a vision to preserve and showcase some of the finest and the most fascinating features about the genesis and growth of the exotic flora that Munnar and other regions of Western Ghats houses, including various variety of tea.
The garden also serves as a museum that displays curios, photographs and other memorabilia of varied importance.
Lockhart Tea Factory Visit
This working tea factory, 15 km from Munnar, is the only one in the region open to the public. Guided tours of the 160-year-old factory explain modern tea processing from picking to export. There's also a small museum, nursery, gardens, tastings and a shop.
The Lockhart Tea Estate factory owned and managed by Harrisons Malayalam Ltd. A visit to the tea factory gives one an insight into the fascinating process of tea making. The different levels involved will sum up the doubts of how the tea you drink is actually made.
Timing 9-5 pm, Monday closed; Entry Rs. 100.00
Dream Land Fun Park
Dreamland Fun Park is an extraordinary combination of fun park, water park and adventurous rides. Camel ride remain the chief attractions here. In addition, one also has the option for activities like Water-balloon Walking and Rubber Jumping. Most ideal for honeymooners and family with kids.
Night Safari – Chinnar / Marayoor
Would you like to spot wild rabbits, bison, boar and deer's in the wild? Or, how about a herd of elephants? Or, better still, an occasional leopard? Chinnar/Marayoor is the places to be. One of the highly popular eco-tourism spots in Kerala, the place has guided tours in open jeeps.

Elephant Ride
Indulge in an exciting ride on elephants. Turn on the adventurer in you. Get the experience of a lifetime. Friendly, docile and tamed, these elephants are sure to give you a lot of fond memories to take back home. The elephant safari / ride will takes you through the most beautiful misty forests, deep valleys and the rugged hill paths of the Munnar.
Ayurveda Massage
Munnar's cool hill station climate and natural abundance of forests with a wealth of herbs and medicinal plants and the cool monsoon season are best suited for Ayurveda's curative and restorative packages. Traditional texts reveal that the cold monsoon weather is the best season for rejuvenation programmes. Munnar with its cool and dust-free atmosphere, provides the ideal backdrop all year round for this rejuvenation and healing therapy.
Kathakali
The trip to Munnar would not be complete without witnessing a soulful recital of the Kathakali dance form. Famous world over as Indian Classical Dance Drama, this skilful combination performing art combines literature (mainly based on the epics of India) music (vocal & instrumental), charming costumes, elaborate facial makeup (Chutti), acting & dancing and are performed by highly trained and skilled artists. The character's mental status is depicted through his/her costumes, facial makeup and expressions. While it's important to be audience to this moving rendition, it may also be equally interesting to watch the Kathakali artists don their makeup. There are quite a few places in Munnar that offer regular Kathakali performances.
Kalaripayattu
Kalaripayattu, considered to be the mother of all martial arts, is a holistic form of physical training that combines the dynamic skills of attack and defence with the secret knowledge of the Marma points. The fact that even most of the Chinese martial arts find their origin here makes it even more interesting. Artful performances of this traditional psycho-physiological discipline are regularly performed for an audience at various places in Munnar form the benefit of the travellers from all over.
Spice Plantation Tour
Take a tour of the spice plantations or gardens in Munnar or Thekkady. Taste some authentic black pepper, cardamom, cinnamon and the exotic vanilla and explore the farms on a nature walk.
Timing 9 – 5 pm, Entry Rs. 100.00
Munnar is a magnificent tourist destination in Kerala located on the Western Ghats. There are many splendid things in Munnar make it a perfect hill station to visit like its pleasant weather, sprawling tea plantations, misty mountains and excellent accommodation facilities. It is a perfect hideaway from the hot and humid city. Choose this hill station for some refreshing holidays.
Best season to visit Munnar
Visit Munnar post monsoon, between the months of September and May. It is advisable to carry light woollens as it can get chilly in the hills.
The cool and pleasant climate makes it an ideal escape for the leisure travelers and weekenders. Climate consideration is an important factor to decide the best time to visit this hill station. Even though you can visit Munnar throughout the year it is wise to avoid the months from June to August because of the heavy rainfall.
Accommodation in Munnar
You can enjoy world class accommodation facilities in Munnar. It is not difficult to find hotels and resorts in this destination with spacious and well equipped rooms with modern facilities. With exotic accommodation facilities and impeccable service, you can expect heavenly holiday experience in a hill station like Munnar.
Munnar Holidays
If you are planning some holidays in Munnar, then you can enjoy more than what you expect. With extensive tea plantations, misty mountains, green valleys and exotic wildlife, you will find the most memorable holidays in this hill station. Many travelers from across the globe find it as an ideal break away from the hustle and bustle of the city life. Choose an excellent tour package and enjoy the best deals offered by the hotels and travel operators.
How to reach Munnar
You can easily reach to Munnar as it can be accessed by road from all the major tourist destination and cities. Cochin International Airport is the nearest airport which is approximately 125 kilometers away from this hill station. You can hire a taxi from Kochi to reach Munnar. Kochi and Coimbatore railway stations are the nearest railway stations to this tourist spot
Munnar Travel tips
It is advisable to carry woolen clothes if you visit Munnar and carry sweaters during winter months. Wear shoes and carry salt as there are leeches in the forests. If you cannot speak the local language, seek the help of an experienced tourist guide.
Where To Stay
Munnar has good hotels for all budgets. Reserve accommodation well in advance, especially on week-ends and holidays.
Reaching Munnar
By Air : The nearest airport is Cochin International Airport, 136 KM away
By Rail : The nearest Railhead is at Cochin and Aluva.
By Road : If you are an adventurer, you can drive a car/Jeep towards Munnar and it'll take 4 hours from Cochin . You have to drive through hair pin bends and winding roads like serpent.
KSRTC – Kerala State Road Transport Corporation operates buses to Munnar from various location of Kerala. Town Bus Stand is located in the modern new bazar.
Four major roads to Munnar are Kochi Road, Thekkady Road, Top Station Road, Marayoor Road.
Distance from Munnar
Munnar – Ernakulam (135km) 4 1/2 hours
Munnar – Thekkady (110km) 4 hours
Munnar – Thiruvananthapuram (300km) 9 hours
Munnar can be reached from following places
Munnar – Palani (120km)
Munnar – Coimbatore (150km) 6 hours
Munnar – Madurai ( 255 km) 6 hours
Munnar – Kodaikanal ( 110km) 4 hours
Munnar Tourism Offices – helps you to get any information on Munnar tourism and travel related subjects.
District Tourist Promotion Council (DTPC),
Address: Kochi – Madurai – Dhanushkodi Rd, Moolakadai, Munnar, Kerala 685612
Phone: 04865 231 516
Hospitals in Munnar – For Any Emergency
Tata General Hospital
Address: General Hospital Rd, Nullatanni, Munnar, Kerala 685612
Phone: 04868 255 888
Arun Hospital
Munnar – Gudarala Rd, Mattupetty, Munnar, Kerala 685612
Phone: 04865 230 410
Morning Star Medical Centre
Address: Nazareth Hill, Morning Star Rd, Adimali – Rajakad Rd, Adimali, Kerala 685561
Phone: 04864 222 114
Amazing facts about Munnar
Highest peak in South India, Anamudi, is situated in Munnar